Page 4 - Solida - Gastro- & Care-Fashion 2023 by Albiro
P. 4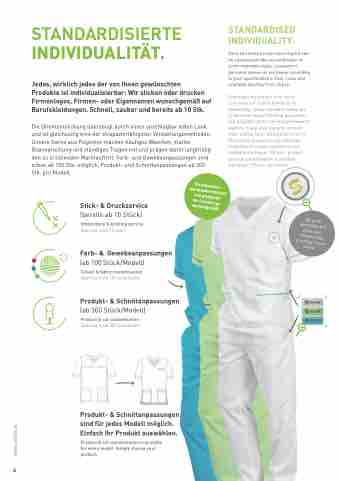 www.solida.at
4
STANDARDISIERTE INDIVIDUALITÄT.
Jedes, wirklich jedes der von Ihnen gewünschten
Produkte ist individualisierbar: Wir sticken oder drucken Firmenlogos, Firmen- oder Eigennamen wunschgemäß auf Berufskleidungen. Schnell, sauber und bereits ab 10 Stk.
Die Direkteinstickung überzeugt durch einen unschlagbar edlen Look und ist gleichzeitig eine der strapazierfähigsten Veredelungsmethoden. Unsere Garne aus Polyester machen häufiges Waschen, starke Beanspruchung und ständiges Tragen mit und prägen damit langfristig den zu erzielenden Marktauftritt. Farb- und Gewebeanpassungen sind schon ab 100 Stk. möglich, Produkt- und Schnittanpassungen ab 300 Stk. pro Modell.
STANDARDISED INDIVIDUALITY.
Each and every product you require can
be customised: We ca
n embroider or print corporate logos, company or
personal names on workwear according to your specifications. Fast, clean and available starting from 10 pcs.
Embroidering straight onto fabric convinces our clients thanks to its unbeatably classy look while being one of the most robust finishing processes. Our polyester yarns can endure frequent washes, heavy-duty use and constant wear, adding long-lasting distinction to the market presence to be achieved. Customised colours and fabrics are available starting at 100 pcs., product
Stick- & Druckservice
(bereits ab 10 Stück)
Embroidery & printing service
(starting from 10 pcs.)
Farb- & Gewebeanpassungen
(ab 100 Stück/Modell)
Colour & fabric customisation
(starting from 100 pcs/model)
Produkt- & Schnittanpassungen
(ab 300 Stück/Modell)
Product & cut customisation
(starting from 300 pcs/model)
Sie wünschen –
wir drucken/sticken
und platzieren
Ihr Firmenlogo
wunschgemäß.
Produkt- & Schnittanpassungen sind für jedes Modell möglich. Einfach Ihr Produkt auswählen.
Product & cut customisation is possible for every model. Simply choose your product.
and cut customisation is possible starting at 300 pcs. per model.
emWe print/
broider and
place your
company logo
according to your
wishes.