Page 34 - Solida - Gastro- & Care-Fashion 2023 by Albiro
P. 34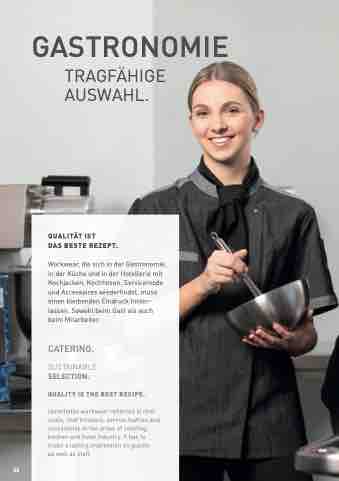 GASTRONOMIE
TRAGFÄHIGE AUSWAHL.
34
 QUALITÄT IST
DAS BESTE REZEPT.
Workwear, die sich in der Gastronomie, in der Küche und in der Hotellerie mit Kochjacken, Kochhosen, Servicemode und Accessoires wiederfindet, muss einen bleibenden Eindruck hinter- lassen. Sowohl beim Gast als auch beim Mitarbeiter.
CATERING.
SUSTAINABLE
SELECTION.
QUALITY IS THE BEST RECIPE.
Identifiable workwear reflected in chef coats, chef trousers, service fashion and accessories in the areas of catering, kitchen and hotel industry. It has to make a lasting impression on guests
as well as staff.